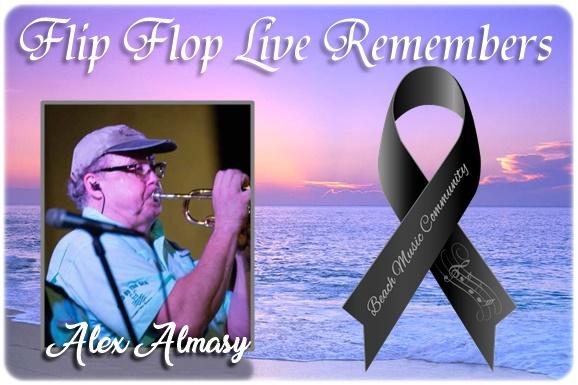 We were saddened to hear the news of the passing of Alex Almasy. Alex played
trumpet with Steve Owens and Summertime and was loved by so many in the
Beach Music community.

In a Facebook post earlier this morning the band wrote:
"Alex was the kindest most easy going soul that has ever been in this band.
He was our brother, band mate, and friend".
We wish to extend our condolences to Alex's family, his band mates and to
those close to him. A private service for Alex was held but a public celebration of
life will be held at a later date. Once we receive this information we will be sure
to update you. If you'd like to read his full obituary and to send your condolences
to the family, Click Here!
In lieu of flowers, memorial contributions can be made to Kidznotes Raleigh at
www.kidznotes.org/support-us, as a reflection of his love of both performing
and teaching music.

If you'd like to read more about Alex, his biography is below that can be
found on the band's website: www.steveowensandsummertime.com
" Alex Almasy, Trumpet, Saxophone, and Trombone. Originally from New York
but raised in NC multi-instrumentalist Alex Almasy learned his trade during
his time at William Paterson University in Wayne, NJ. He was a Music
Performance major and while there was able to perform with many world
renowned musicians and was in a highly paced learning environment.Upon
his return to North Carolina he has played with such groups as The Raleigh
Jazz Orchestra, NC Revelers (jazz trumpet soloist), The Triangle Jazz Orchestra
(lead trumpet) and various small mainstream jazz and Dixieland groups such
as Decatur Street Beat. He also played with the award winning Mighty Lester
Band (which played major blues festivals across the country) along with being
in the High Roller Band where he met Steve Owens. After the HRB dissolved
Alex enjoyed a few years with The Castaways based out of Durham, NC before
joining Steve Owens and Summertime as part of a three piece horn section.Alex
plays numerous brass and woodwind instruments with flawless proficiency.
Regardless of what he is performing, you will be treated to an energetic
experience whether he is part of the section or taking a fiery solo."
From the Steve Owens and Summertime Website