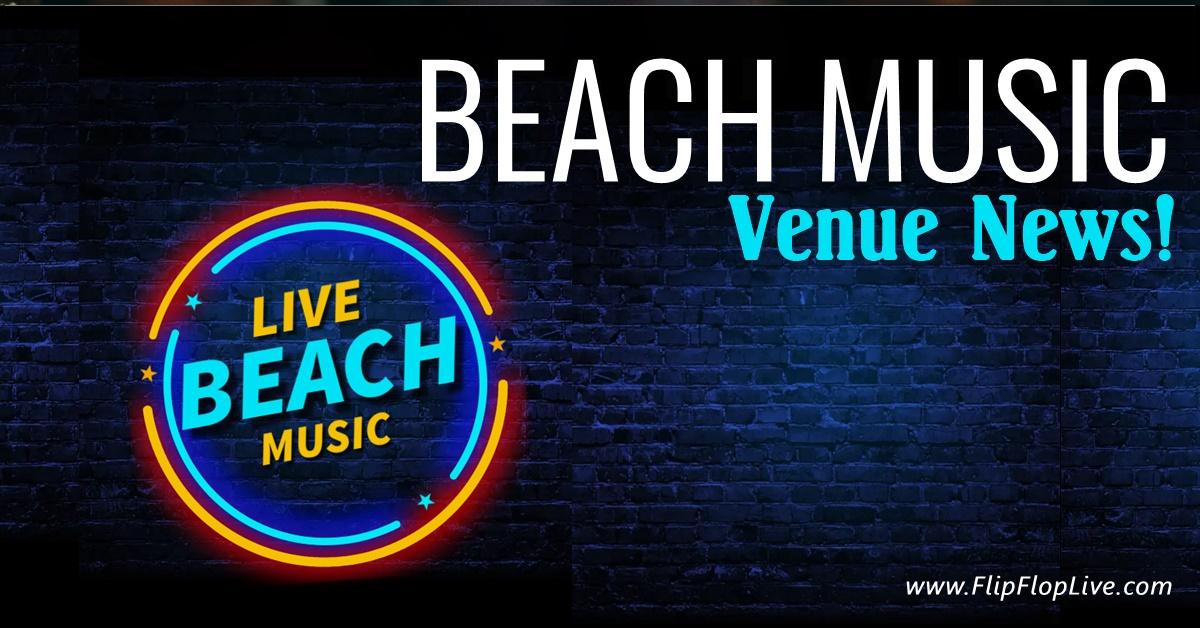 The dates and bands for the 2023 summer concert series by the Surry Arts Council at Blackmon Amphitheatre have been posted to their website and they've also been added to the Flip Flop Live beach music calendar. They have a tremendous lineup that you should check out and we've included those for you below. If you're interested in attending multiple events, you may want to consider the current sale they have on their annual pass.

The Surry Arts Council announced their 2023 annual pass and the sale they're currently running. The pass is on sale right now for $150 + tax. The post reads: "This pass will give your sweetheart admission to over 50 concerts at Blackmon Amphitheatre and admission to The WPAQ Merry-Go-Round every Saturday morning at The Historic Earle Theatre & Old-Time Music Heritage Hall."
We're not aware when the sale will end but if you're interested in purchasing a pass you can visit their website or evenbrite for full details. We've also included the scheduled bands for their summer series at Blackmon Amphitheatre below and you will also find the events listed on our beach music calendar.

Scheduled 2023 Concerts
APRIL EVENTS
April 29, 2023
- JUKEBOX REHAB
MAY EVENTS
May 4, 2023
- Embers feat. Craig Woolard
May 5, 2023
- Magnificents Band
May 6, 2023
- Holiday Band
May 12, 2023
- Envision
May 18, 2023
- Band of Oz
May 19, 2023
- The Tonez
May 20, 2023
- Cat5
MAy 26, 2023
- Cassette Rewind
JUNE EVENTS
June 1, 2023
- The Catalinas
June 2, 2023
Too Much Sylvia
June 3, 2023
- Extraordinaires
June 8, 2023
- Legendary Motown Revue
June 9, 2023
- North Tower Band
June 10, 2023
Gary Lowder & Smokin' Hot
June 15, 2023
Blackwater Band
June 16, 2023
Entertainers
June 17, 2023
- The Magnificents
June 22, 2023
- Kids in America - Totally 80's Tribute
June 23, 2023
- The Konnection
June 24, 2023
- Part Time Party TIme Band
June 29, 2023
- Jim Quick and Coastline
June 30, 2023
- The Extraordinaires
JULY EVENTS
July 1, 2023
- Holiday Band
July 6, 2023
- Phatt City
July 7, 2023
- North Tower Band
July 8, 2023
- Blackwater Band
July 13, 2023
- Embers feat. Craig Woolard
July 14, 2023
- Castaways
July 15, 2023
- Ryan Perry Band
July 20, 2023
- Legacy Motown Review
July 21, 2023
- Main Event Band
July 27, 2023
- Elkin Big Band
July 28, 2023
- Entertainers
AUGUST EVENTS
August 3, 2023
- Liquid Pleasure
August 4, 2023
- Part TIme Party TIme Band
August 5, 2023
- Phatt City
August 10, 2023
- Embers feat. Craig Woolard
August 11, 2023
- Envision
August 12, 2023
- Kids in America - Totally 80's Tribute
August 17, 2023
- Band of Oz
August 18, 2023
- Extraordinaires
August 19, 2023
- Chocolate Chip and Company
August 24, 2023
- Liquid Pleasure
August 25, 2023
- Too Much Sylvia
August 26, 2023
- Castaways
August 31, 2023
- Jim Quick and Coastline

SEPTEMBER EVENTS
September 1, 2023
- Jukebox Rehab
September 2, 2023
- Holiday Band
September 8, 2023
- North Tower Band
September 15, 2023
- Blackwater Band
September 16, 2023
- Cassette Rewind
September 19, 2023
- Mayberry Days Concert with Envision
September 20, 2023
- Embers feat. Craig Woolard
September 21, 2023
- Band of Oz
September 29, 2023
- The Tonez

OCTOBER EVENTS
October 6, 2023
- Entertainers
October 13, 2023
- Runaway Train
October 14, 2023
- Craig Southern & Phoenixx

We encourage you to contact the venue prior to attending as Flip Flop Live is not responsible for any errors, changes or cancellations our visitors. We will not be held responsible for ticket sales or purchases. Please contact the venue directly to handle those details. Photos and logos remain property of the owner, artist, band, DJ, venue and/or Flip Flop Live. Thank you for supporting Beach Music and for visiting Flip Flop Live. Download our mobile app from the Apple or GooglePlay store. For "Everything Beach Music" be sure to visit us often at: www.FlipFlopLive.com