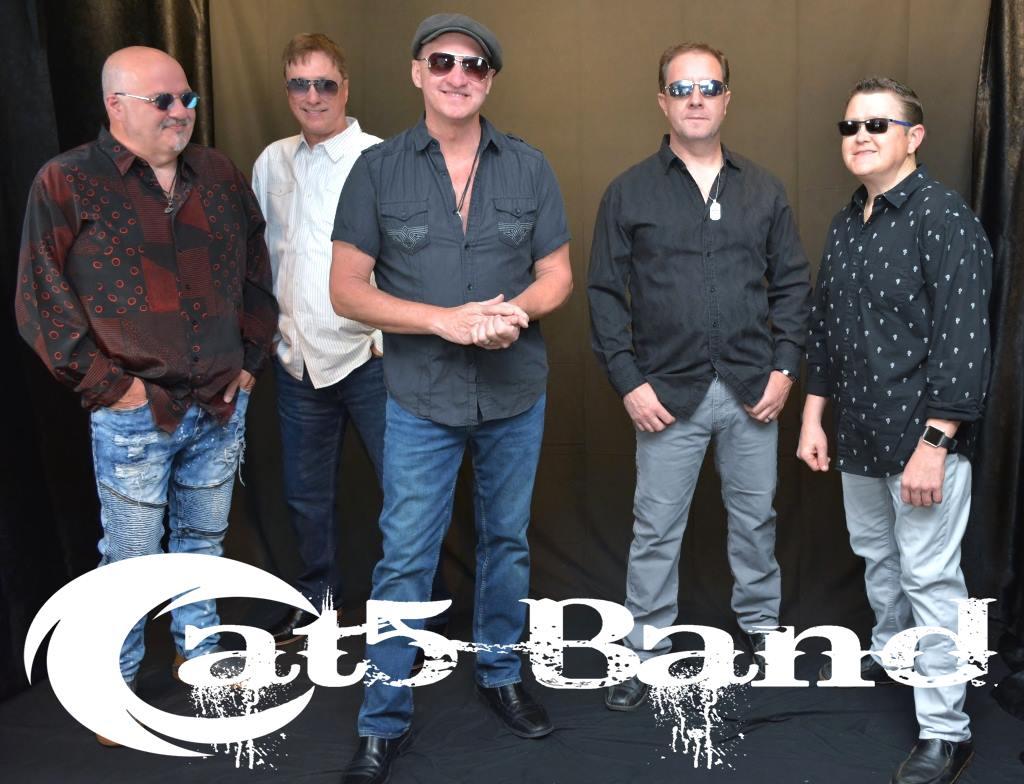 Official Press Release from their Facebook Page
Group 5 Entertainment Inc. is excited to announce the formation of The "Cat5 Band"
Mission Statement
"A group of professional musicians that have come together with a common purpose to provide the best music possible to audiences all over the country.
We are excited to announce the formation of band members Jerry Thomas West, Camron Dudley, Glen Tippett, Hugh Blanton, and Tim Sidden.
---------------------------------
Jerry Thomas West
Cammy Award winning Vocalist, Guitarist for 24 years with the Band of Oz and the 80s Rock Band SugarCreek will be contributing his amazing vocals to Cat5. Jerry is best known for his hits "Somewhere Over The RainBow" and "Build Me Up" Jerry Has Won Multiple Cammy Awards including "Vocalist of the Year" and "Instrumentalist of the Year".
--------------------------------
Camron Dudley
Vocals, Drums, Percussion: Camron, formally of the band Jim Quick and Coastline won the CBMA Instrumentalist Of The Year Award at the CBMA's in 2014. Attending College in Elon N.C. He studied Jazz and was a member of the All State Band.
Camron is well known for his amazing Drum Solos performed nightly. And is a First Call Session Drummer for the North Carolina Recording Scene, having recorded 100 plus songs for various artist.
-------------------------------
Glen Tippett
Vocalist, Multi Instrumentalist has won Multiple Cammy Awards during his tenure of 16 Years with Jim Quick and Coastline including 2 Instrumentalist of the Year Awards in 2008 and 2015. He sung the lead Vocals on the Hit Song remake of "Something Like Olivia" Glen makes his home in the greater Myrtle Beach Area.
------------------------------
Hugh Blanton
Vocals, Bass Guitar is a Multi Cammy Award Winning artist with credits including being an original member of the Entertainers, and The Breeze Band. the recipient of Song of the year with the Breeze Band and Instrumentalist of the Year in 2017 during his stint with Jim Quick and Coastline. His resume also includes the Spare Change, Unknown Hinson, Embers, David Caudle and Emily Minor.
------------------------------
Tim Sidden
Vocals, Keyboards, Harmonica. Tim Performed with the Band Hip Pocket for the past 4+ years.
In 2017 He won a Cammy Award for Collaboration for his Production of "We Are Beach Music" In 2018 He Co-Wrote and released the Song "Carolina Queen" which went Number "1" in the Beach Music World and Spawned the creation of its own Merchandise including Shirts, Mugs and other Items.
Tim's credits include a 14 year stint at the World Famous Carolina Opry in Myrtle Beach S.C. as well as touring with National 90's "Hit" Makers; Rhett Akins, Daryle Singletary, John "Bo Duke" Schneider, T. Graham Brown, Tom "Luke Duke' Wopat, Jimmy Fortune, Grayson Hughes and many others.
Tim Currently Co-Owns Sand-City Productions in North Myrtle Beach S.C.
His recorded work has produced Multiple National Number 1 Hits and over 40 top 40 Hits.
-----------------------------
Visit us on Social Media @Cat5live
Cat5 Band is currently Booking dates for its 2019 Summer Fall Tour starting June 1st.
For More Information visit www.Cat5Band.com
Email-- TheCat5LiveBand@gmail.com
Hey Jerry, I look forward to seeing you perform soon. Hopefully you will be back in Roanoke this summer ?
Posted by
Lew Jamison
on
06/13/2019 - 08:43 PM