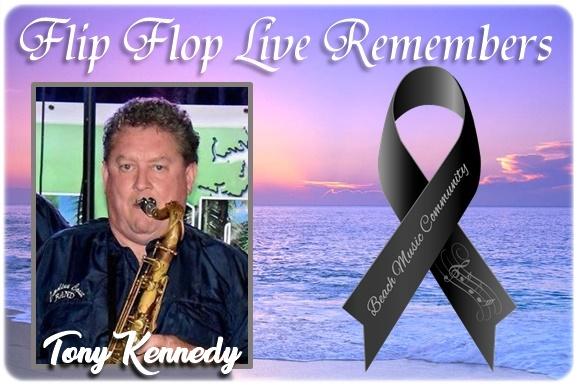 We were saddened to hear of the passing of Tony Kennedy who was a member of the Carolina Coast Band. We had the opportunity
to meet and spend time with Tony during Spring SOS and he was such a kind person and gifted musician. We extend our thoughts
and prayers to Tony's family, band members and friends.

Obituary and service information:
WOODRUFF- Tony Lenier Kennedy, 58, of 151 Irby Street passed away Thursday, May 23, 2019 at his home.
A native of Spartanburg County, he was born January 14, 1961 to Patricia "Pat" Williamson Kennedy and the late William Donald "Don" Kennedy who passed away July 30, 2018. He was a member of Northside Baptist Church and was self-employed. He was a musician and was a member of the Carolina Coast Band and Zataban. He was a 1978 graduate of Woodruff High School and was currently serving the City of Woodruff as City Councilman Ward 5 since 2002 having served four terms.
Surviving are his wife, Cassandra Pennington Kennedy of the home; one daughter, Jada Kennedy of the home; one son, Seth Kennedy of the home; one sister, Donna Kennedy (Shannon) Littlefield of Woodruff; one brother, Brian (Malinda Harkins) Kennedy of Woodruff.
A Celebration of Life Service will be held Saturday, June 1, 2019 at 11:00 a.m. at Northside Baptist Church by Mr. Seth Kennedy, Mr. Marty Phillips, Mr. Brian Kennedy and Mr. Joey Werner. Visitation will immediately follow the service in the church sanctuary. In lieu of flowers memorial contributions may be made to The Mr. Holland's Opus Foundation, 4370 Tujunga Avenue, Suite 330, Studio City, California, 91608.
The family is at the home of his mother, Pat Kennedy, 520 Briarcliff Drive, Woodruff.
Lanford-Gwinn Mortuary in charge of the arrangements. To send your condolences to the family, please Click Here!
Hello, I have the funeral arrangements for Tony Kennedy as per his wife, Cassandra. I am a dear friend of both. Service TONY KENNEDY Funeral Arrangements.... Service on June 1 @ 11:00 @ Northside Baptist Church, Woodruff, SC....after the service, the Family will receive friends. Donations can be made to: Mr. Holland's OPUS. This is a program for children who can not afford instruments. Family are receiving visits at Tony's Mother's, Pat, @ 520 Briarcliff Dr, Woodruff, SC anytime before the funeral.
Posted by
suzy pearson
on
05/26/2019 - 05:55 PM