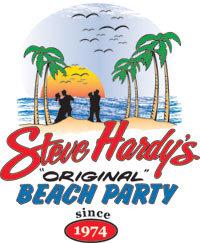 **Logo property of Steve Hardy's Original Beach Party**

After forty-five years, the one and only Steve Hardy will tentatively retiring. He's been on the air since April of 1974 and he grew up "listening to groups like the Four Tops and the Tempations" according to his biography on Facebook. Steve's show, Steve Hardy's Original Beach Party "is the longest-running beach music radio show on the air." His show airs every Sunday from 5:00 - 10:00 PM on WNCT FM 107.9. Not only over the airwaves but over the years you could find Steve taking his show on the road to various venues and events throughout the East Coast.
During the Sunday, October 13, 2019 show, Steve, his son Britt and wife Hope announced Steve's retirement and released information on an upcoming CD, "Party For a Lifetime" that will feature a host of artists and bands performing some of Steve's favorite songs throughout the years. Britt credited Craig Woolard from the Embers in orchestrating the lineup. Craig also called in to talk about the project and once released, all proceeds from the sale of the CD's will go to Steve and the family. He mentioned how so many people were willing to donate their time as well as services to complete the album. One of the artists that will be included is Mark Black from the East Coast Party Band. His contribution is on the Jackie Wilson classic, "Whispers" (Gettin' Louder), which was also recorded and released by the Isley Brothers. Mark's version is sure to get chart action as he did a great job as always. The song is currently available for purchase on iTunes and all proceeds will also go to Steve and the Family. You can view the promo below!
Every year people look forward to Steve's annual Christmas event called the "Thanks for Listening Christmas Party" which hosts several bands, free food and a Christmas toy drive for the Toys for Tots organization. His wife Hope mentioned during the show on Sunday that the 2019 Christmas party would probably be Steve's last appearance at the event. Everyone is invited but you must have a ticket to attend. In lieu of the toy drive, they're accepting donations this year to help with medical expenses and Steve's retirement. Tickets will be distrubuted to the local sponsors around the first of November. The current lineup for the party includes: The Mighty Saints of Soul, Band of Oz, Steve Owens and Summertime, Main Event Band and other special guests. Tickets and sponsor information will be announced soon!
Keep the family in your prayers! We're more than happy to offer our services in helping anyway possible here at Flip Flop Live.
Andy Lucy and Jonathan "JJ" Sharpe
Flip Flop Live


Christmas Party Information:
Thursday, December 19, 2019
Doors Open at 6:00 PM
303 SW Greenville Blvd.
Greenville, NC 27834
Tickets will be available in November

Preview of Mark's New Song!
Steve and I have been friends for more than 40 years. He has always been an inspiration and most of all the GOD father of BEACH music. Steve has so many friends that he has touched over his 45 years playing BEACH music. THANKS for all of the memories that you have shared and for being a long time friend. May GOD BLESS you and your family. Buddy, Ava, and Tanner Weatherington
Posted by
Buddy Weatheringotn
on
10/29/2019 - 12:59 PM