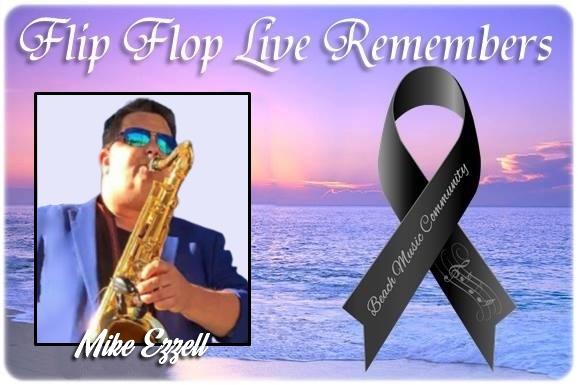 We were saddened to read the news from the East Coast Rhythm and Blues Band about their fellow member Mike Ezzell.
From East Coast Rhythm and Blues Band's Facebook Page:
Their post read: "As we celebrate the birth of our Savior, Jesus Christ, it is with a heavy heart that we have to send this message today. We have lost a great friend, talented musician and a band brother.Mike was not only a great musician, but a loving husband and father.We all are in total shock this morning, but knowing he is in the loving arms of Jesus and celebrating with Him on His birthday helps to bring comfort. Please keep Mike's family and our band family in your prayers."
From Steve Owen's and Summertime's Facebook Page:
" The first Carolina Beach music band I was ever a part of was the HIGH ROLLER BAND .. and the first Sax player I ever shared the stage with was this man ... Mike Ezzell .. in the early hours of yesterday morning Mike went to be with the lord. He will be remembered not only for the great music he made but also his fun wit and laid back personality. Mike has played and filled in with many bands over the years including Mixed Emotion, Delta Riders, High Roller Band, Ricky Godfrey Band , Ginger Thompson Band , and most recently East Coast R &B band .. Our thoughts and prayers go out to Mike's family and many friends during this difficult time. Rest Easy Mike !"
We've included Mike's obituary below which includes service information and a guest book if you'd like to sign. We send our condolences to the family and to the band. We'll be praying for all of you in the coming days and weeks ahead.
Obituary - Sign the Guestbook
Mike Ezzell August 18, 1966 – December 25, 2020 Mike Ezzell, 54 of Elm City passed away Friday. His funeral will be conducted at 7 p.m. Tuesday, December 29, 2020 at Joyner's Funeral Home, Wilson. Pastor John Scott will officiate. The family will receive friends Tuesday evening from 5 – 6:45 p.m. at Joyner's Funeral Home, 4100 Raleigh Road Parkway, Wilson. Mike played in several Carolina Beach Music bands over the years, lastly with is beloved band of "Brothers", East Coast Rhythm and Blues and also with his cherished friend, the Ginger Thompson Band. He was trusted by many in the Paint Division at NAPA-Walker Auto Parts for over twenty years. Mike was a loving and devoted husband, father, son, uncle and friend to all who knew him. He will always be remembered in the heart of his loved ones. Mike is survived by his loving wife, Tamsey Whitley Ezzell; sons, James Michael Ezzell, Jr. of Elm City and Cameron Simons Renfrow of Durham; mother, Janice Glover Bolton of Rocky Mount; special niece, Taylor Lorraine Clark of Wilson; special nephew, Timothy Charles Clark of Lucama; his half-brother, Wesley Ezzell of Columbus, Georgia and four wonderful great nephews. He was preceded in death by his father, William James Ezzell, Jr. and his grandparents, W.J. and Ethel Ezzell and Harvey and Alvern Glover. In lieu of flowers, please consider memorials in Mike's memory to the Muzik Kids Foundation, PO Box 425, Wilson, North Carolina 27894. Condolences directed to Joyner's Funeral Home and Crematory at www.joyners.net.