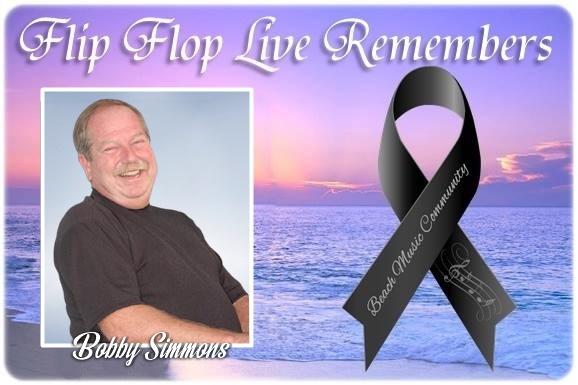 We read the sad news of the passing of Bobby Garland Simmons and we send our condolences to his family and friends during this time. We've read several posts about Bobby including the Carolina Beach Music Academy which posted; "Our thoughts and prayers go out to the family of Bobby Simmons. A wonderful and talented musician and friend left us last night to be in the beach paradise in heaven. He donated the instruments that we got signed and auctioned off each year at the CBMA's. Fly High Bobby Simmons."

Funeral Services:
Wednesday January 27, 2021 at 3:00 PM
Visitation beginning at 1:00 PM to 2:45 PM
Dillard Funeral Home
2402 Gentry Memorial Highway
Pickens, South Carolina.

Obituary:
Easley, SC – Mr. Bobby Garland Simmons, age 62, went to be with his Lord and Savior on January 24, 2021. Mr. Simmons was born in Pickens County, South Carolina and was the son of the late Garland Hudson Simmons and Lucille Parsons Simmons. Survivors include his wife of fourteen years Lynn Garrett Simmons of Easley, South Carolina and daughters Amy Britz (Luke) of Fort Mill, South Carolina and Jennifer Ables (Ross) of Anderson, South Carolina. Surviving are three grandchildren Clayton, Carsyn and Connor. Also surviving are Aunts Doris Childs and Gertrude Hughes of Pickens, South Carolina.
Mr. Simmons was of the Baptist faith. He was the owner and operator of the Music Maker in Easley, South Carolina having operated that business since 2009. He was a keyboard player, having played with several local bands throughout the Southeast. Mr. Simmons was an avid outdoorsman and had turned his home with Lynn into a hunting lodge. He was a member of the Anderson Electric City Shag Club and was known for his steps and his warm hugs. Bobby never met a stranger. He enjoyed camping and travel.
A chapel service will be held at Dillard Funeral Home on Wednesday January 27, 2021 at 3:00 PM with a visitation beginning at 1:00 PM to 2:45 PM located at 2402 Gentry Memorial Highway, Pickens, South Carolina.
In lieu of flowers memorials may be made on behalf of the family to the Alzheimers Association located at 4124 Clemson Blvd, Suite L Anderson, SC 29621. Phone 1-864-224-3045 or Meals on Wheels of Greenville located at 15 Oregon Street Greenville, SC 29605.
Dillard Funeral Home is assisting the Simmons family.
Online condolences may be made on the funeral home website.
FAMILY
Garland Hudson Simmons

,

Father (deceased)

Lucille Parsons Simmons

,

Mother (deceased)

Lynn Garrett Simmons

,

Spouse

Amy Britz (Luke)

,

Daughter

Jennifer Ables (Ross)

,

Daughter

Clayton

,

Grandchild

Carsyn

,

Grandchild

Connor

,

Grandchild

Doris Childs

,

Aunt

Gertrude Hughes

,

Aunt