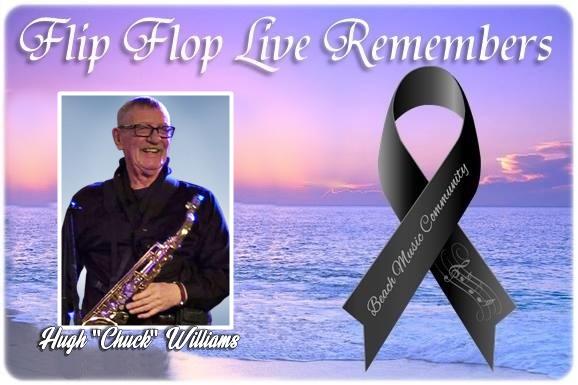 Wednesday, January 27 2021
This evening we learned of the passing of Hugh "Chuck" Williams from Newport News, Virginia. According to the information we've received, he passed away at 7:17PM on Tuesday, January 26, 2021. On any given night you'd find Chuck performing with the Fat Ammons Band or the Rhondels up and down the east coast. On his Facebook page on the about me section he wrote: " I can't seem to quit this music stuff. I wish things would pick up though. The less I gig the more I have to practice."

His friends have shared memories including Jay Kinlaw who said: "Rest in Heavenly Peace Hugh 'Chuck' Williams! Sax player for Fat Ammons' Band andThe Rhondels for many, many years!!! Super talented and incredibly funny!!! Old times spent with him, Edgar Justus, Curtis Swisher, Lee and Don Quisenberry are washing over me as I type this!!! Fly high, Sax Man!!"
Jim Stoudemire also commenting: "I just learned tonight of the passing of a good friend. Chuck Williams and I worked together in Fat Ammons Band from 2001-2003 though he was there a much longer time. He was a very talented musician, performer and writer. A lot of sax players do the "two horns at a time thing" but Chuck did it in such a rhythmic way that it stood above what anyone else did. I'll miss seeing and hearing him play but I'll also miss the stories and history. Many times when I would ask a question he would answer with something like "yeah, that's how I learned to play sax upside down on a trapeze!" Along with Fat Ammons Band, Chuck played several years with blues guitarist, Albert Collins as well as The Rhondels. His talent and his friendship will surely be missed! Thinking of Denise and hoping she finds comfort in the coming times."

We'd like to extend our sincere condolences to Denise as well as his family and friends during this time. We've included a couple of videos below of Chuck that we found and if we're made aware of his obituary, we will be sure to update this page with that information.