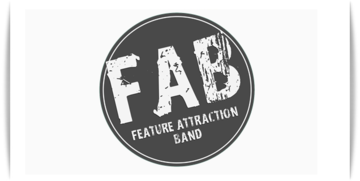 On Friday, April 30, 2021 the Feature Attraction Band announced on their website and Facebook that their guitarist and vocalist, Jonathan "JJ" Sharpe had submitted his resignation with the band. JJ started performing with the members of FAB back when they were called "Overtime" until his return in 2017 when he rejoined the band members after the name change to "Feature Attraction Band".
Their post reads: "OFFICIAL RELEASE: Jonathan JJ Sharpe, guitarist and vocalist for The Feature Attraction Band announced his resignation on Wednesday, April 28, 2021.We've traveled a lot of miles with JJ over the years including with the Overtime Band and we will miss his playing, singing and fellowship in the band. His wife Shanon and children J.W. and Miranda will also be missed at the summertime events we have planned this year. Thank you for everything you've done to move the band forward as FAB wouldn't be where we're at today without your hard work and dedication. We love you brother and we'll miss you!"
Jonathan is also co-owner here at Flip Flop Live and in response he says: "Thank you to everyone that has called, sent a text or messaged me via social media. It's so special to know that I've made so many friends because of my time performing live music. Giving my notice with the Feature Attraction Band was bittersweet and I will always cherish my time with such a great group of talented individuals and close friends. I look forward to seeing them on the road soon during a Flip Flop Live road trip and of course I live within mintues of most of the members so I will still be able to see them often and we still text daily. They have a talented guitarist coming on board so stand by because he will be a great asset to the band. So many people have asked what I will be doing and as of right now I will be getting settled at my new office as I'm transferring to another location with my employer and I will be enjoying a little more family time. I'm not removing music from my life as I have Flip Flop Live, I'm working on personal recordings here at home and you just never know where you may see me doing in the near future so I will just say stay tuned."
We've included the band's original post below and we encourage you to visit them on Facebook and give their page a like/follow. You can also keep up with band news by visiting their website.
Oh my goodness, I am sure he will be missed. I think I saw him in Bracey, VA coming out of Dollar General as I was going in?
Posted by
Judy Lewis
on
08/31/2021 - 04:39 PM