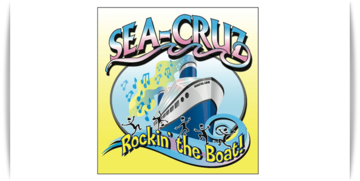 On July 29, 2021 Dino Fair announced on his Facebook page the end of Sea-Cruz. His post reads:
"IMPORTANT!!! After twenty years I am closing the book on Sea-Cruz. I have re-injured my right arm lifting band equipment. For those that remember, I injured my neck, shoulder, elbow and hand two years ago just before "The Making Waves Cruise" with "Craig and The Embers". I'm sure they remember me sucking on their stage. I opted not to have surgery because I was not ready to leave the stage. I dealt with my issues long and hard and now I have added a possible detached retina in my future. This decision breaks my heart. You that really know me will realize that this decision does not come easy but it is one that I alone have to make. I have had the honor of working with the best, first 19 years in "The Fantastic Shakers" and lately 20 years with "Sea-Cruz". I will cherish my memories for the rest of my life. Thanks to Molly Askins Ford and Allie Privette this transition will be somewhat easier because they both want the best for myself and my recovery. Molly and I have been through so much together and I am going to miss backing her as well as Allie. They both "ROCK". I want to thank all of our clients from all the past years especially "Creek Ratz" who kept us every week for twenty years. I would also like to thank all of you that came to see both bands do our thing. You included us in your families. You invited us to your homes. We played your weddings and you invited us when a loved one passed away. In other words you appreciated us not just by your presence at a performance but you included us in your lives. While I recover know that I am surrounded by friends and family but especially Debbi Bridges Fair, Megan Croft, my two Grandaughters, my Mom and my best friend "Cruz". On a good note "Mental Case" is recovering nicely and I hope to spend more time with the company and I plan on studio time at home and at "Mental Trax" in Nashville. I feel like the luckiest guy on the planet because of my experiences with all of you and I look forward to an Incredible future with Debbi and Cruz. I love you all and wish you all the brightest of futures. Dino"
We wish him all of the best in his future endeavors as well as his health and we've included his original post below if you'd like to comment on it to send him your well wishes.
From the Sea-Cruz website:
"ProSound Entertainment proudly presents THE SEA-CRUZ BAND. This group has received numerous nominations and awards from the Carolina Beach Music Award Association.

This dynamic group features the advantages of modern technology, years of stage experience and a BOAT LOAD of personality!

SEA-CRUZ is a sequenced group, consisting of heavy keyboards and two or three lead vocalists. This combination gives you a big band sound without the big band PRICE and promises to deliver a complete and fun entertainment experience.

SEA-CRUZ musical menu includes the best of 60's Oldies, Classic Rock, 70's Disco, Carolina Beach and today's hottest new songs. All of this flavored with Pop, Country, Rhythm and Blues and Standards gives you and your guests the Itinerary for a SPECTACULAR VOYAGE.

SEA-CRUZ has become one of the Southeast's top entertainment groups so ALL ABOARD for a fun filled SEA-CRUZ. "
Hey guys I am looking for Molly if you can please give her this message she can email me I think I might have a gig for her and the band. Nancy D
Posted by
Nancy DiCenso
on
09/28/2021 - 11:28 AM