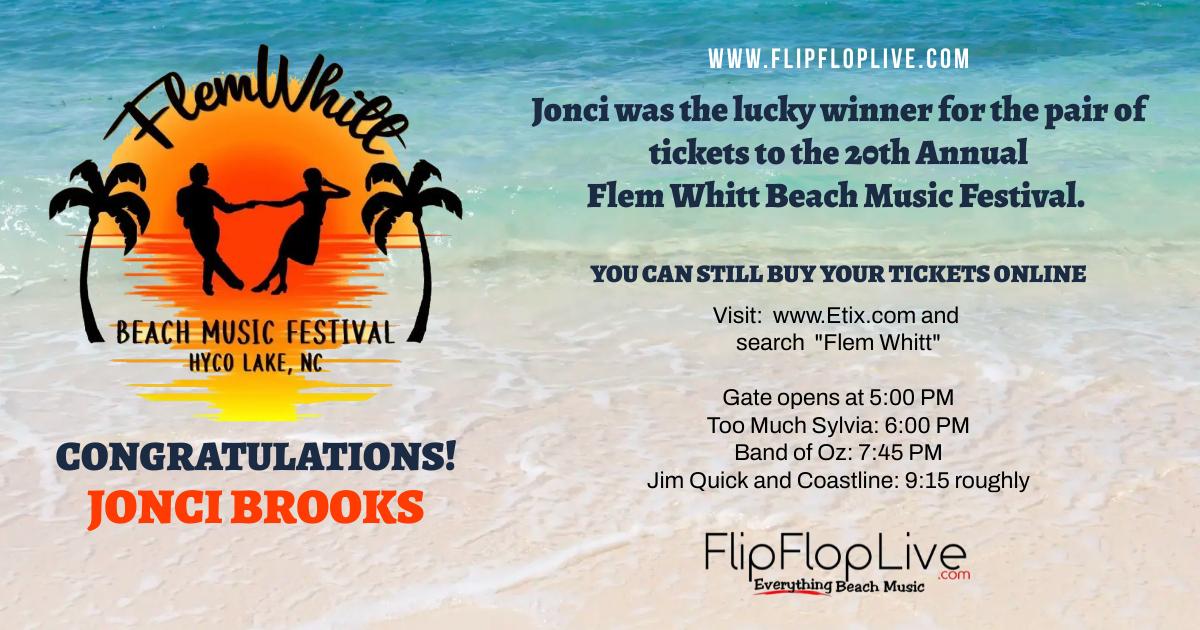 We'd like to say congratulations to Jonci Brooks on winning the pair of tickets to the 20th Annual Flem Whitt Beach Music Festival. Jonci, we will be in touch with you about your tickets.
The festival is coming up this Saturday with Too Much Sylvia, The Band of Oz, Jim Quick and Coastline with your emcees Mike Brooks and Big Allan D. from WLUS 98.3FM and Carolina Ocean Drive. The festival is presented by the Roxboro Jaycees, Total Tire and Person County TDA and will be held, Saturday, August 13, 2022 at the Hyco Lake Recreational Area at 205 Pointer Dr.,Leasburg, NC.
Parking- $5 - Shuttle available from Hampton Inn
Need to know about Saturday!!
Too Much Sylvia starts at 6:00PM
Jim Quick and Coastline 9:15 roughly
2. No coolers!! No food!! Jaycees will provide water for free. Food vendors will be on site as well
3. Bring your ID. Everyone will be checked. No underage drinking will be allowed
4. Tents may be put up Saturday morning at 8am. We will be working out there Friday so no tents before Saturday
5. Bring cash!! Beer will be sold at a minimum price as years past. So bring cash
6. If you do drink please have a designated driver.
7. The weather will be perfect!! So come out and have a great time with us!! See you Saturday!!!
We hope to see you there and you can still buy your tickets online by
visiting Etix
.