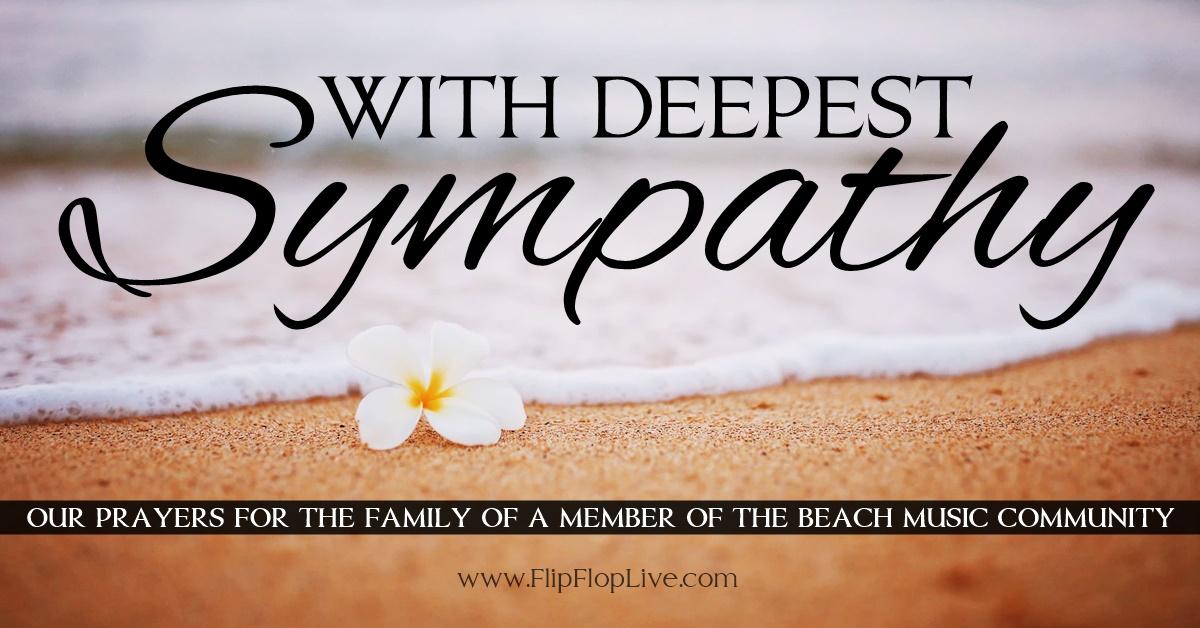 On September 29, 2022, Charlie Brown (Ed Weiss') wife Sue made a post on Charlie's Facebook page that read: "This is Sue, Charlie's wife. He is currently not doing well. His health has been on the decline for a little over a year. Keep listening to "On the Beach with Charlie Brown" and keep him in your prayers.Suz". Many friends, fans, listeners and fellow industry members commented on the post sending prayers and best wishes to the legendary figure in Beach Music. The following updates were posted the following week also on his social media page.
- Friday, October 7, 2022 -"This is Suz again for Charlie.He came home from rehab last Sunday and was put into Hospice Home Care on Monday. The prognosis is not good. He has declined in only a week. He has difficulty speaking now, so unfortunately he is unable to take your calls. I would like to thank each of you for your prayers, emails, texts and phone calls."
- Saturday, October 9, 2022 - "Suz here...Charlie did not wake up this morning. He is resting peacefully and is on oxygen and comfort medications. Thank you all for your comments and prayers. I will continue to update you with any changes." Several hours later a final post was shared that read: "Charlie Brown passed away tonight at 8:50 pm. Thank you to all his friends and fans for your support over the years and for your prayers this week. Carolina Beach Music lost a kind, gentle man who loved playing the music for you, and I lost the love of my life. We would have celebrated 51 years of marriage in November. I am thankful he did not suffer long and died peacefully at home with me by his side. - Suz"
Charlie was a great friend to Flip Flop Live and to so many. The telephone calls, emails and having the pleasure of talking with him at various events will certainly be missed. The industry was hit hard by losing such a wonderful ambassador, supporter and DJ. Charlie helped so many djs in our industry and supported anyone striving to keep our music alive. "On the Beach With Charlie Brown" was heard on many stations and you can currently listen to the show archives on the WHUP website. We extend our prayers to the entire Weiss family during this time and once arrangements have been made, we will update this page with that information.

Chris Beachley (producer of On the Beach) made a comment on Facebook that reads: "It is hard to think that 20 years of On The Beach has been produced with 1,000 shows. I would not have wanted to do it with anyone else. If you want to know what a life in the middle of the beginning of Rock & Roll, you need to read the book about Charlie Brown. I know I have learned a lot.He was playing Beach Music before they called it that. His legend preceded him and will live after. In one of our last conversations, he spoke of how he wanted "On the Beach with Charlie Brown" to live on............. it will now be a "best of" show for all to enjoy. Chris Beachley - Producer of On The Beach
Original Facebook posts:







An article was published by Teddy Rosenbluth in The News & Observer on October 9, 2022. Part of the articles reads: "Weiss, better known by his on-air name "Charlie Brown" (a 1959 hit by the R&B group The Coasters) was 80. His radio show, "On The Beach," was syndicated on about 40 stations across the Southeast, making him one of the most well-known voices in Beach music radio. Beach music, R&B music largely recorded by Black artists, started gaining traction among young, white North Carolinians in the '50s and '60s. Because the music industry was still heavily segregated at that point, teenage Carolinians could only hear the music on jukeboxes in beach towns like Atlantic Beach and Myrtle Beach." READ THE ENTIRE ARTCLE

A Life "On the Beach" The Charlie Brown Story
What a special keepsake and tribute to such a wonderful person and his story. If you have any questions regarding the book, please email: thecharliebrownstory@gmail.com


More information on Charlie:

Thanks to Wikipedia - Charlie Brown (DJ) - Wikipedia
Ed Weiss, known on-air as Charlie Brown, is a retired disc jockey and host of the syndicated beach music program On the Beach with Charlie Brown, heard on nearly 40 stations, mostly in The Carolinas, Virginia and Georgia. As a teenager, Eddie Weiss worked as a DJ on various stations playing songs for teens.

In 1961, Weiss while working at a radio station in Norfolk, he was told "Eddie Weiss" would no longer be his name. Instead, he would be "Charlie Brown", after the song by The Coasters. After graduating from UNC-Chapel Hill in 1963, Brown worked at a station in Charlotte, where he interviewed Stevie Wonder; Diana Ross brought the singer into the room.[1]

Brown became one of the "KIX Men of Music".[1] From 1964 to 1970, Brown was evening host on top 40 WKIX in Raleigh, North Carolina.[2][3] After leaving his on-air job, Brown worked in sales and later served as WKIX general manager. He also helped to produce the first beach music records with Atlantic Records. Later, as a partner in Beach Beat Records, he was one of the first to sell beach music records advertised on TV.[4]

In 1996, Brown was the first DJ named to the Carolina Beach Music Hall of Fame.[1][4]

On the Beach is a three-hour show heard on about 40 stations as of 2015, with about 50 songs from a playlist totalling 650. Artists include Chairmen of the Board, The Embers and The Temptations.[1] In 2010, On the Beach won the Syndicated Radio Show award at the Carolina Beach Music Awards for the fourth year.[5] Brown also won for best AM radio DJ in the years 2004 through 2008 and On the Beach has been named favorite syndicated show every year since 2010.[6]

Tom Taylor says, "His reputation is such that he could be in the middle of the Arctic and still be an important player in beach."[1]

Brown worked at WPCM in Burlington, North Carolina and retired in 2014, except for On the Beach.[1] and his weekly show Tuesday afternoons on WHUP-LP/104.7 at Hillsborough, North Carolina.
We have listened to Charlie Brown since 1964 in Raleigh NC (WKIX). His Legacy has and will continue to be missed. Teresa Fuquay Bobby Ballinger NMB SC
Posted by
Bobby Ballinger and Teresa Cranford
on
10/23/2022 - 04:36 PM
Charlie Brown was the "King of Beach Music" Ilistened to his Sunday show on The Shark in the Outer Banks. God Bless him!
Posted by
Bud Mayo
on
07/17/2023 - 09:27 PM